« I am Body, Emotion, Language, Action and Relation© »
Gestalt Massage® consists of both a wellness massage and an accompaniment through word and touch. Inspired by Californian massage and Gestalt therapy from which we get the structure and a few concepts, this approach is progressive and respectful of the person's limits and needs.
A psycho-corporeal accompaniment
Gestalt Massage®, formerly named Sensitive Gestalt Massage®, has been developed in France in the late 1970s.
Sensitive, because the precision of the techniques performed allows the person to get in touch with their sensitivity and emotional feelings, which can increase body awareness.
Gestalt, because the session, conducted with respect and kindness whilst always listening to the person's needs, promotes a holistic experimentation as a coherent whole, also named a gestalt.
Massage, because it is an approach though touch. Gestalt Massage® offers a wide variety of both gentle and deep, slow and fast movements that are unifying and structuring for the body map. The quality and diversity of techniques ensure a personalized massage that can best meet the person's expectations.
The sequence is organized in three stages, according to the cycle of contact inherent to Gestalt therapy:
The pre-contact: a speaking time during which the person is invited to express their needs and expectations
The full-contact: a contact-making announcing the beginning of the massage, upon the person's choice a time of verbal and tactile relaxation and stretching, followed by the massage with or without oil if the person wants to keep clothes on, then a time of integration and rest
The post-contact: a feed-back to take stock of the session and to verbalize sensations and feelings
Gestalt Massage® is ideal for anyone:
– under stress, fatigue, anxiety or burnout
– going through a tough time such as grief or break-up
– stuck in the mind and cut off from their feelings and body
– having relational difficulties towards themself or others due to an illness, violence, physical or mental abuse
– suffering from eating disorders
– just wanting to give themself a «back to oneself» time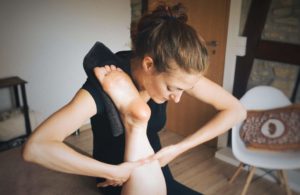 Benefits of Gestalt Massage® are numerous:
– it responds to the primary and vital need of being touched
– it participates to a better blood and lymphatic circulation
– it brings well-being and relaxation
– it increases awareness of the body by awakening sensations, feelings and emotions
– it allows physical and emotional release
– it unifies body, emotions and mind
Gestalt Massage is a «back-to-oneself» tool for everyone, at all stages of life from childhood to an advanced age. Duration and content of the sessions are constantly adapted in order to more accurately respond to the request expressed by the person.
Massage is nevertheless contraindicated in case of:
– bones, muscles or skin diseases
– viral infections
– unrestrained fractures or torn muscles
– bacterial infections
– acute or severely localized inflammatory arthritis
– phlebitis
– varicose veins
– hemorrhages
– unidentified bumps or masses
– vomiting
– acute pain in the abdomen
– unstable heart condition
In case of important medical issues or a specific medication, please refer to the advice of a doctor.
This is a non-medical and non-sexual massage.
A wellness massage
Gestalt Massage®, thanks to the great diversity of its movements, can constitute the base of sessions exclusively focused on well-being.
These are then adapted: speaking times are reduced and the person's participation during the massage, such as breathing, visualization, etc., is lessened.
Benefits of massage described above remain unchanged.